PARKING LOT DESIGN

1. 90 DEGREE PARKING (2 WAYS)
Typical car stall 9' by 18'
Aisle depends if it is one, way or two ways...two ways ailes = Y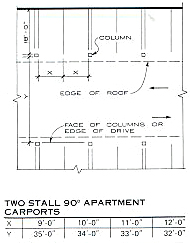 sq. ft. per car stall (8' x 16') = 162
sq. ft per car aisle (8' x 17.5') = 140
sq. ft. total per car = 302
340 sq. ft x 150 cars = 45,300 sq. ft (without including roadways and turns)
2. DEGREE PARKING (ONE WAY)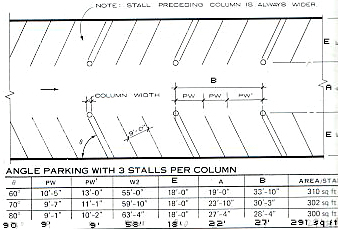 So 90 degree parking ar emore efficient in the over all dimension of the site.
3. CONSIDERATIONS
A. 2' 6" must be considered as car overhang. Parkings are usually designed using Center Lines CL
according to Parking Dimensions on Table of Page 40 of Graphic Standard.
B. 14' space is recomendende at 1 way entrances
C. 13' is recomended as minimum of one way aisles.
D. 6' is recomended as passaway. Usually a walkway must be 6' wide (min.) for one car sided
parking walkway, 7' to 10' with 2 cars. 6' = 2' for car overhang and 4' for two people to cross.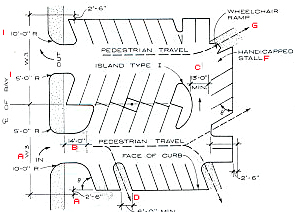 F. Handicap Stall depends on local code: usually between 13' to 16' width
G. Weelchair ramp
I. 10' R and 5' R depending on car turn. For typical planter island for diagonal parking
see page 41.